India's Largest Exhibition of Textile – Garment Machinery, Fashion Accessory, Fabrics, Process and Allied Services.
World's Innovation & Technology Confluence with Textiles, Garment Industry of Tirupur
KNIT SHOW
On display everything dedicated to the Textiles, Garment making.
Knit Show
the Business Catalyst
Gateway to billion dollar Tirupur Garment Industry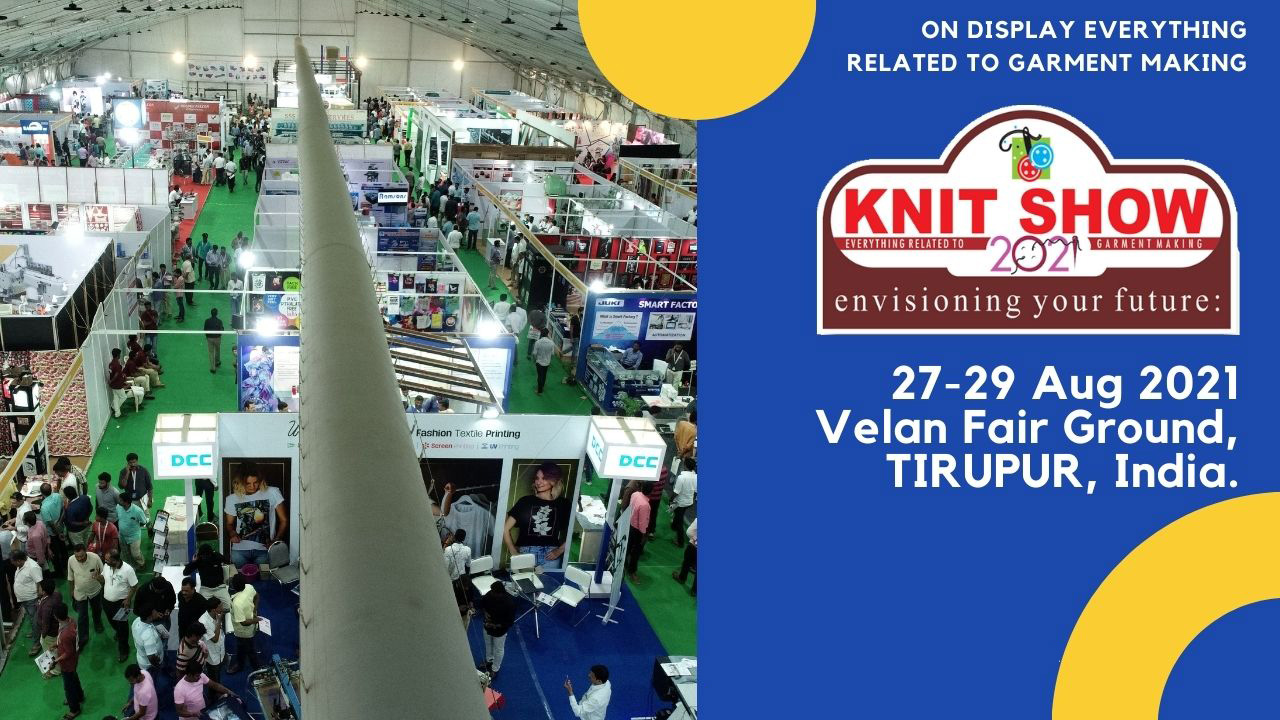 TO PROMOTE
Huge variety of offerings of the manufactures/agents at once place.

TO BUILD
Brand quality for the manufactures by association with the event.

TO CREATE
Awareness of innovation or already available offerings to the garment Industry.
"KNIT SHOW"? Here to Start
->
A useful forum for the exhibitors for making new in-roads to the markets through interaction and first-hand experience, Knit Show is expected to draw a large number of visitors from Tirupur and all over India. So, be there to explore, discover and make an edge in your business. Be where your buyers are! Be from where you can begin confident strides in your business!
Knit Show, organized at Tirupur, the Knit Wear hub of India, is posited to take a leap in terms of both the number and quality of the participants. This trade event is expected to host over 500 exhibitors from different parts of the country presenting a wide range of products and services.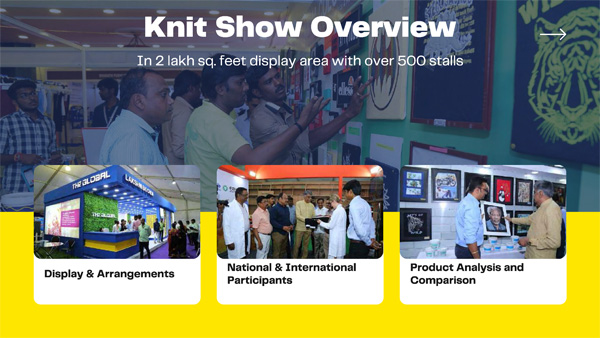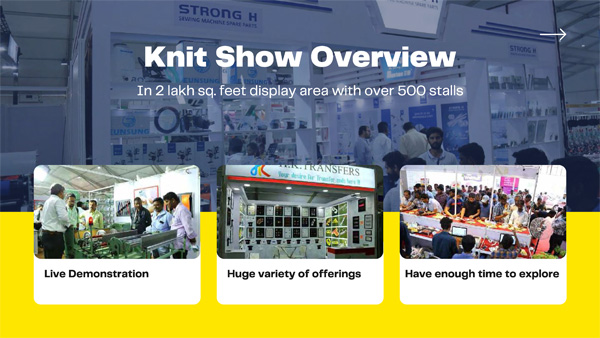 About TIRUPUR
->
Tiruppur is also known as the knitwear capital of India, accounting for 90% of India's cotton knitwear export.[36] It has spurred up the textile industry in India for the past three decades. It contributes to a huge amount of foreign exchange in India. In the Fiscal year 2013, exports were ? 17,500.The city provides employment to a large pool of workers, with the average salary per worker being around ? 9,000 per month.
There are over 10,000 garment manufacturing industries in Tiruppur, employing over 600,000 people. The cluster on average exports textiles worth ? 25 billion a month. Cotton knitwear sent from here are in much demand in European countries.
Special Industrial Parks have been developed to support the textile industry. Nethaji Apparel Park, Thirupur Export Knitwear Industrial Complex, SIDCO Industrial Estate and J.S.Apparel Park are a few that are operational. Nethaji Apparel Parkhas 53 companies manufacturing knitwear for exports. The NAP presently provides employment to 15,000 people and generates export revenue of ? 15 billion from the apparels produced in it.Tirupur Export Knitwear Industrial Complex was established in 1992 and has 189 sheds built over a 4200 square feet area. Some of the world's largest retailers including C&A, Nike, Walmart, Primark, Adidas, Switcher, Polo Ralph Lauren, Diesel, Tommy Hilfiger, M&S, FILA, H&M, Reebok import textiles and clothing from Tiruppur.
About INDIA
->
India is first in global jute production and shares 63% of the global textile and garment market. India is second in global textile manufacturing and also second in silk and cotton production. 100% FDI is allowed via automatic route in textile sector. Rieter, Trutzschler, Saurer, Soktas, Zambiati, Bilsar, Monti, CMT, E-land, Nisshinbo, Marks & Spencer, Zara, Promod, Benetton, and Levi's are some of the foreign textile companies invested or working in India.
The Textile industry was the major component of economic income in India before the English colonies. "The hand-loom and the spinning-wheel, producing their regular myriads of spinners and weavers, were the pivots of the structure of that society," described by Karl Marx. Due to the abolishment of slavery in the Americas, England began to search for another source of cheap cotton and saw India as a ripe place for this. They convinced many farmers to switch from subsistence farming to producing and exporting huge amounts of cotton, after a long period of protectionism over the English textile industry. Eventually, through the technical and marketing advances made possible by colonisation, the traditional method of artisan textile production was destroyed, and replaced with large scale factory production.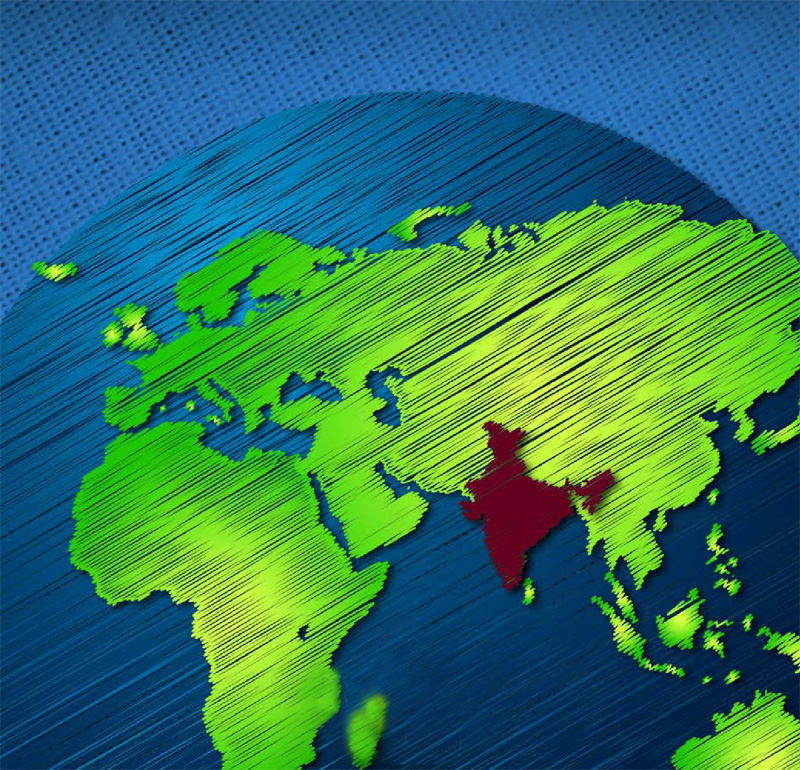 PARTICIPANTS ACROSS THE WORLD
VISITORS ACROSS THE NATION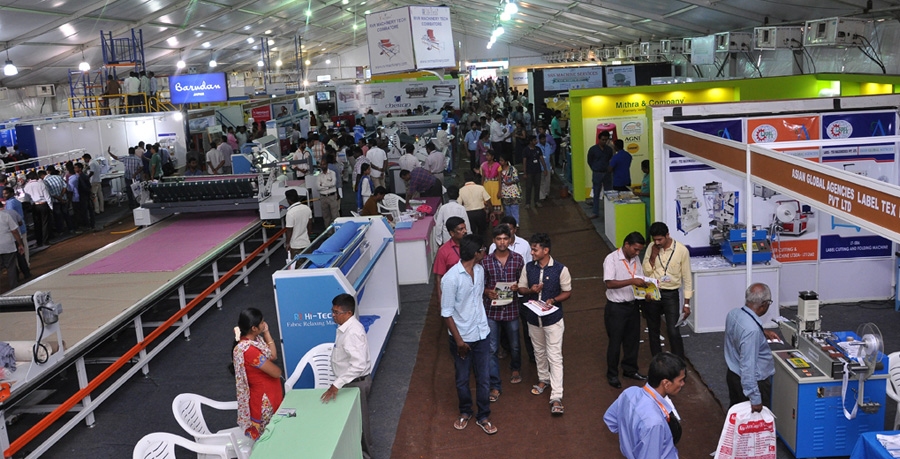 EXHIBITORS
An array of the entire range of textile-garment
MACHINERY, TECHNOLOGY, ACCESSORY, FABRIC, PROCESS & SERVICES
Printing Machines, Printing Technology, Digital Textile Printing Machines, Digital Textile Printing Technology, Sublimation Printing Machines, Printing Machines Spares, Knitting Machines, Knitting Machines Spares, Sewing Machines, Sewing Machines Spares, Embroidery Machines, Embroidery Machines Spares, Braiding Machines, Braiding Machines Spares, Bar code Printers, Cad-cam, Cone Winding Machines, Curing Machines, Cutting Machines, Display Racks, Dryer Machines, Dyeing Machines, Finishing Machines, Flat Knitting Machines, Fusing Machines, Garment Decorative Machines, Garment Furniture, Garment Machines, Garment Making Machines, Garment Printing Machines, Heat Transfer Machines, Home Furnishing Machines, Industrial Boilers, Ironing Machines, Jacquard Machines, Labeling Machines, Laser Cutting Machines, Laser Machines……
Read More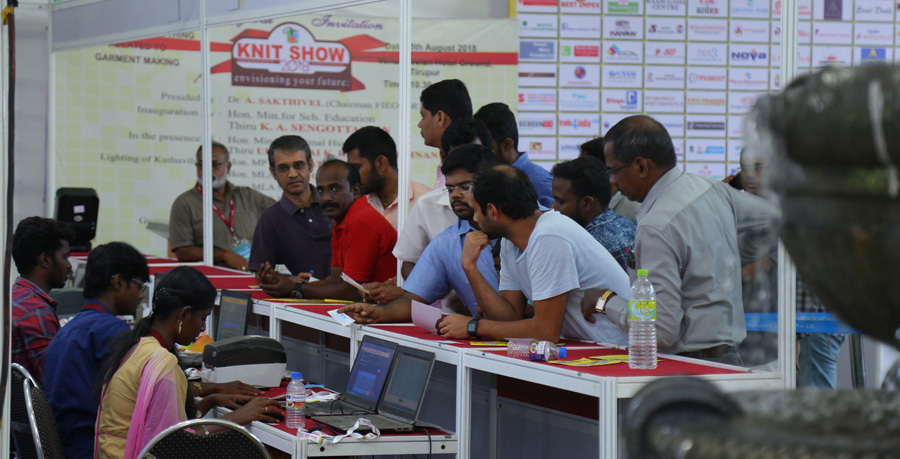 VISITORS
Textile Manufacturers, Garment Manufacturers, Export Houses, Buying House, Buying Agent, Apparel Manufacturers, Domestic Garment Manufacturers, Cloth Manufacturers, Garment Brands, Garment Labels, Knitwear Manufacturers, Domestic Retail Chains, International Retail Chains, Woven Garment Manufacturers, Home Furnishing Companies, Leather Goods Manufacturers, Merchandisers, Purchasing Team, Sourcing Team, Accessory Sourcing Team, Fabric Sourcing Team, Fashion Designers, Fashion Studio, Knitting Companies, Flat Knitting Companies, Printing Companies, Digital Printing Companies, Sublimation Printing Companies, Textile Printing Houses, Fusing and Curing Companies, Embroidery Companies, Job Working Companies, Dyeing and Bleaching Companies, Processing Companies, Fashion Accessory Manufacturers, Fashion Accessory Dealers, Garment Machinery Manufacturers, Garment Machinery Dealers, Spinning Mills, Yarn Dealers, Thread Manufacturers……….
Read More
The Ultimate fair for the latest garment machineries, services and trending clothing accessories, and more…